Musica Claromontana vol.2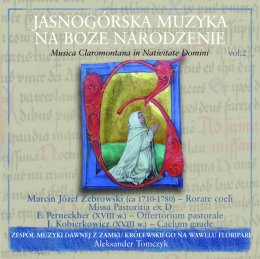 Please give us the catalogue numbers and quantity of our CDs you are interested in buying. We will send you information on the cost of the CDs and of the shipping and handling thereof.
Musicon
musicon@musicon.pl
OK
MCCD 02
Christmas Music from Jasna Góra.
Performers:Early Music Ensemble from the Royal Wawel Castle in Kraków, dir. Aleksander Tomczyk and soloists: Iwona Leśniowska, Piotr Olech, Szczepan Kosior, Mirosław Borczyński.
Music from the collection of the Archives of the Pauline Fathers at Jasna Góra in Częstochowa. The recording was made at the Jasna Góra Basilica in January 2004.
Songs
1

Jan Tomasz Żebrowski
RORATE CAELI
4:36

2

–

3

Franciszek Perneckher
OFFERTORIUM PASTORALE
6:12

2

Surgite pastorculi
4:39

3

Ergo venite pastores
1:33

4

Józef Kobierkowicz
CAELUM GAUDE
4:15

5

–

21

Marcin Józef Żebrowski
MISSA PASTORITIA ex D
27:19

5

Kyrie
0:57

6

Christe
1:37

7

Gloria
0:50

8

Domine Deus
3:25

9

Qui tollis
1:34

10

Quoniam tu solus Sanctus
2:06

11

Cum Sancto Spiritu
1:50

12

Credo
1:09

13

Et incarnatus est
1:28

14

Et resurrexit
1:32

15

Sanctus
0:25

16

Pleni sunt caeli
0:33

17

Osanna
1:41

18

Benedictus
3:39

19

Osanna
1:42

20

Agnus Dei
1:03

21

Dona nobis pacem
1:48