Camerata Silesia sings Chopin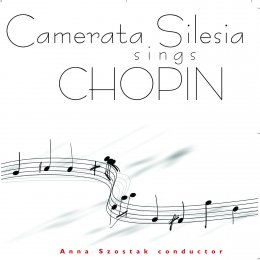 Please give us the catalogue numbers and quantity of our CDs you are interested in buying. We will send you information on the cost of the CDs and of the shipping and handling thereof.
Musicon
musicon@musicon.pl
OK
MCD 037
Singers Ensemble Camerata Silesia
conductor - Anna Szostak
Anna Szostak's captivating proposal in the seemingly simple vocalises of Camerata Silesia, superbly brings back the atmosphere of Chopinistic motives and the beauty contained in them.
They are an incomparable transfer of straightforward tones, extracting the hidden bel canto of the keyboard. This recording proves that one can love Chopin with the voice and that it is a successful attempt in finding the poetry of music and the cantabile of musical tones which occupied his thoughts.
Producers: Jacek Guzowski, Krzysztof Kuraszkiewicz
Recorded in July 2001 and July 2002
Recording Time: 79'18"
Recording method: DDD, 44,1kHz, 24 bits
Songs
| | | | |
| --- | --- | --- | --- |
| 1 | Frederic Chopin | Preludium Des-dur Op.28 nr 15 | 6:31 |
| 2 | Frederic Chopin | Walc As-dur Op.69 nr 1 | 3:15 |
| 3 | Frederic Chopin | Preludium c-moll Op.28 nr 20 | 2:09 |
| 4 | Frederic Chopin | Mazurek a-moll Op.68 nr 2 | 2:59 |
| 5 | Frederic Chopin | Nokturn Es-dur Op.9 nr 2 | 4:15 |
| 6 | Frederic Chopin | Mazurek F-dur Op.68 nr 3 | 1:11 |
| 7 | Frederic Chopin | Walc h-moll Op.69 nr 2 | 3:03 |
| 8 | Frederic Chopin | Mazurek f-moll Op.68 nr 4 | 1:46 |
| 9 | Frederic Chopin | Walc Des-dur Op.64 nr 1 | 1:49 |
| 10 | Frederic Chopin | Mazurek e-moll Op.41 nr 2 | 2:57 |
| 11 | Frederic Chopin | Walc a-moll Op.34 nr 2 | 3:58 |
| 12 | Frederic Chopin | Mazurek g-moll Op.67 nr 2 | 2:17 |
| 13 | Frederic Chopin | Preludium Fis-dur Op.28 nr 13 | 3:12 |
| 14 | Frederic Chopin | Mazurek cis-moll Op.6 nr 2 | 2:30 |
| 15 | Frederic Chopin | Preludium A-dur Op.28 nr 7 | 1:02 |
| 16 | Frederic Chopin | Mazurek B-dur Op.7 nr 1 | 2:59 |
| 17 | Frederic Chopin | Preludium e-moll Op.28 nr 4 | 2:24 |
| 18 | Frederic Chopin | Mazurek a-moll Op.17 nr 4 | 4:41 |
| 19 | Frederic Chopin | Etiuda E-dur Op.10 nr 3 | 4:36 |