Missa Paschalis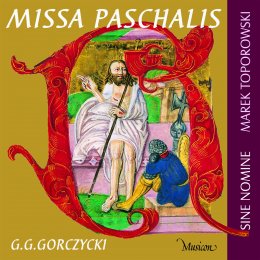 Please give us the catalogue numbers and quantity of our CDs you are interested in buying. We will send you information on the cost of the CDs and of the shipping and handling thereof.
Musicon
musicon@musicon.pl
OK
MCD 034
Sine Nomine Chamber Choir
conductor, organ, positiv organ - Marek Toporowski
chorus master - Piotr Zawistowski
Selection and transcription of the monodie proprium and ordinarium missae - Tadeusz Maciejewski
Producers: Jacek Guzowski, Krzysztof Kuraszkiewicz
Recording Time: 44'20"
Recording method: DDD, 44,1kHz, 16 bits
Songs
1

–

4

....................................................
Easter songs
9:07

1

Christ is risen
3:34

2

Christ the Lord rose from the dead
2:28

3

Christ the Lord is risen
1:57

4

A merry day has come today
1:08

5

....................................................
Toccata III toni -The Lowicz Organ Tablature
3:40

6

....................................................
Introitus: Resurrexi...
3:06

7

–

8

Grzegorz Gerwazy Gorczycki
Missa Paschalis
7:43

7

Kyrie
3:38

8

Gloria
4:05

9

....................................................
Graduale: Haec dies...
3:26

10

....................................................
Alleluia. Pascha nostrum cum Sequentia: Virgini Marie ave
4:14

11

....................................................
Credo - Rafal from Stawiszyn
4:24

12

....................................................
Offertorium: Terra tremuit... ...
0:58

13

....................................................
Praefatio...
2:25

14

–

16

Grzegorz Gerwazy Gorczycki
Missa Paschalis
5:30

14

Sanctus
2:11

15

Benedictus
1:38

16

Agnus Dei
1:41

17

....................................................
Communio: Pascha nostrum...
1:13

18

....................................................
Ite missa est - gregorian chant. Deo gratias - Marek Toporowski
0:42

19

....................................................
Offertorium: Terra tremuit... ...
0:59