The Mystical Voices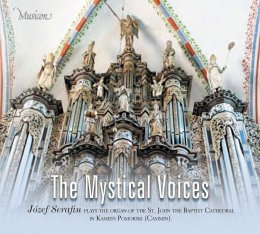 Please give us the catalogue numbers and quantity of our CDs you are interested in buying. We will send you information on the cost of the CDs and of the shipping and handling thereof.
Musicon
musicon@musicon.pl
OK
MSCD 044
Józef Serafin plays the organ of the St. John the Baptist Cathedral in Kamień Pomorski (Cammin).
Producers: Jacek Guzowski, Krzysztof Kuraszkiewicz
Graphic design: Anna Lenartowicz
Hybrid Multichannel Super Audio CD
Plays on All SACD and CD Players.
The recording, in the high-resolution (24/96) SURROUND 5.0 technology, was made in July 2010, courtesy of canon Dariusz Żarkowski, provost of the Cathedral in Kamień Pomorski.
Songs
1

Jakub Sowa
Salve Reginae Misericordiae, Łowicz Tabulature 16.c.
1:46

2

Jakub Sowa
Ad te clamamus, Łowicz Tabulature 16.c.
1:03

3

Jakub Sowa
Eia ergo advocata nostra, Łowicz Tabulature 16.c.
1:29

4

Jakub Sowa
O clemens, Łowicz Tabulature 16.c.
0:49

5

Johann Pachelbel
Ciacona
7:13

6

–

7

Johann Sebastian Bach
Toccata und Fuge d-moll "dorische" (BWV 538)
12:47

6

Toccata
4:52

7

Fuga
7:55

8

–

11

Johann Sebastian Bach
Toccata, Adagio und Fuge C-Dur (BWV 564)
14:35

8

Toccata
5:37

9

Adagio
2:55

10

Grave
1:40

11

Fuga
4:23

12

–

18

Marian Sawa
Sonata
15:12

12

I., Maestoso
0:39

13

Vivace
1:28

14

Maestoso
0:30

15

Tranquillo
0:35

16

Espressivo
3:03

17

II.
3:46

18

III. Lento
5:11

19

–

24

Paul Hofhaimer
Salve Regina
6:51

19

Salve Regina
1:45

20

Ad te clamamus
0:54

21

Eia ergo
1:54

22

Nobis post hoc (J.Kotter)
0:43

23

O clemens
0:27

24

O dulcis Maria
1:08

25

–

41

....................................................
Presentation of selected voices
9:23