J.S.Bach - Organ Concertos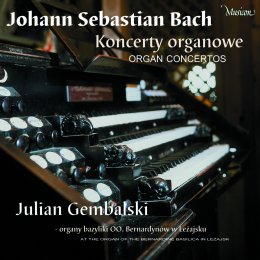 Please give us the catalogue numbers and quantity of our CDs you are interested in buying. We will send you information on the cost of the CDs and of the shipping and handling thereof.
Musicon
musicon@musicon.pl
OK
MCD 028
Organ concertos by J.S.Bach performed by Julian Gembalski on the Leżajsk basilica organ.
Producers: Jacek Guzowski, Krzysztof Kuraszkiewicz
Recorded in 1997
Recording method: DDD, 44,1kHz, 16 bits
Songs
1

–

3

Johann Sebastian Bach
Concerto I G-dur BWV 592 (tr. Johann Ernst von Sachsen-Weimar)
7:22

1

***
3:11

2

Grave
2:24

3

Presto
1:47

4

–

6

Johann Sebastian Bach
Concerto II a-moll BWV 593 (tr. Antonio Vivaldi)
11:22

4

***
3:57

5

Adagio.Senza Pedale a due Clav.
3:30

6

Allegro
3:55

7

–

9

Johann Sebastian Bach
Concerto III C-dur BWV 594 (tr. Antonio Vivaldi)
17:17

7

***
6:46

8

Recitativ.Adagio
2:53

9

Allegro
7:38

10

Johann Sebastian Bach
Concerto IV C-dur BWV 595 (tr. Johann Ernst von Sachsen-Weimar)
4:12

11

–

15

Johann Sebastian Bach
Concerto V d-moll BWV 596 (tr. Antonio Vivaldi)
10:59

11

***
0:59

12

Grave
0:34

13

Fuga
3:37

14

Largo
2:35

15

Finale
3:14

16

–

18

Johann Sebastian Bach
Fantasia G-dur ("Concerto") BWV 571
7:45

16

***
3:29

17

Adagio
2:05

18

Allegro
2:11