Music In Frombork Cathedral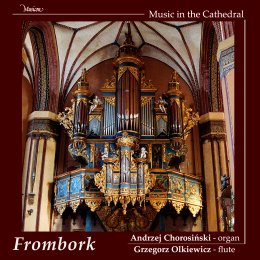 Please give us the catalogue numbers and quantity of our CDs you are interested in buying. We will send you information on the cost of the CDs and of the shipping and handling thereof.
Musicon
musicon@musicon.pl
OK
MCD 024
Performers: Grzegorz Olkiewicz - flute, Andrzej Chorosiński - organ.
Producers: Jacek Guzowski, Krzysztof Kuraszkiewicz
Recorded on February and May 1997 in Frombork cathedral.
Recording Time: 69'13"'
Recording method: DDD, 44,1kHz, 16 bits
Songs
1

Johann Sebastian Bach
Passacaglia in C minor BWV 582
11:32

2

Charles Gounod
Ave Maria, arr.: Lóránt Kovács
3:00

3

Tomaso Albinoni
Adagio in G minor arr.: Vilmos Leskó
8:08

4

Léon Boëllmann
Prayer from the "Suite gotique"
4:28

5

Felix Mendelssohn Bartholdy
Sonate in C minor Op.65, No.2
8:58

6

Franz Schubert
Ave Maria, arr.: Lóránt Kovács
4:31

7

Mieczysław Surzyński
Improvisation on the polish church song "Holy God" Op.38
8:50

8

–

11

Wolfgang Amadeusz Mozart
Serenade in G major KV 525 "Eine kleine nachtmusik"
19:13

8

Allegro
6:02

9

Romanze. Andante
6:31

10

Menuetto. Allegro
2:26

11

Rondo. Allegro
4:14