The Kurpie Songs by Karol Szymanowski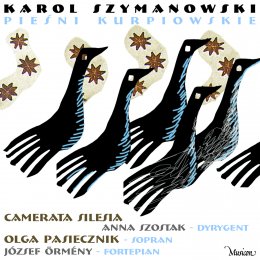 Please give us the catalogue numbers and quantity of our CDs you are interested in buying. We will send you information on the cost of the CDs and of the shipping and handling thereof.
Musicon
musicon@musicon.pl
OK
MCD 023
Performers:
Singers Ensemble Camerata Silesia,
Anna Szostak - the conductor,
Olga Pasiecznik - soprano,
Jozsef Örmeny - piano.
Recorded on February and June 1997in the Concert Hall of the Pomeranian Philharmonic Bydgoszcz.
Producers: Jacek Guzowski, Krzysztof Kuraszkiewicz
recording method: DDD, 44,1kHz, 16 bits
Songs
| | | | |
| --- | --- | --- | --- |
| 1 | Karol Szymanowski | Hey, My Oxen | 1:57 |
| 2 | Karol Szymanowski | Who Is It Tossing? | 2:43 |
| 3 | Karol Szymanowski | May Jesus Christ | 2:30 |
| 4 | Karol Szymanowski | Whip the Horse | 2:54 |
| 5 | Karol Szymanowski | Get Ready, My Lass | 2:23 |
| 6 | Karol Szymanowski | Mr. Musician, Play a Waltz | 1:47 |
| 7 | Karol Szymanowski | Cranes Flew by | 2:29 |
| 8 | Karol Szymanowski | A Storm Is upon the Land | 1:42 |
| 9 | Karol Szymanowski | Mind Mother | 2:38 |
| 10 | Karol Szymanowski | At the Lakelet | 2:04 |
| 11 | Karol Szymanowski | Grey Horses Near the Forest | 3:19 |
| 12 | Karol Szymanowski | Whip the Horse | 2:37 |
| 13 | Karol Szymanowski | The Oak's Been Felled | 2:24 |
| 14 | Karol Szymanowski | Voice, Carry over the Dew | 3:01 |
| 15 | Karol Szymanowski | Neigh, Horse | 3:56 |
| 16 | Karol Szymanowski | Dark, Dark Is the Night | 1:56 |
| 17 | Karol Szymanowski | The Fish Are Gone | 1:59 |
| 18 | Karol Szymanowski | Everybody Is There | 2:13 |