Bartłomiej Pękiel. Missa Pulcherrima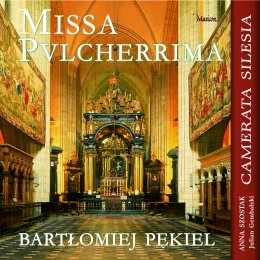 Please give us the catalogue numbers and quantity of our CDs you are interested in buying. We will send you information on the cost of the CDs and of the shipping and handling thereof.
Musicon
musicon@musicon.pl
OK
MCD 021
Missa Pulcherrima and Missae senza le cerimonie by Bartłomiej Pękiel performed by Singers Ensemble Camerata Silesia,
Julian Gembalski - positive organ,
Anna Szostak - the conductor
Producers: Jacek Guzowski, Krzysztof Kuraszkiewicz
Recorded at the Protestant church
in Goleszów near Cieszyn,
26-31 August 1996
Recording Time: 56'29"
Recording method: DDD, 44,1kHz, 16 bits
Songs
1

–

6

Bartłomiej Pękiel
Missa Pulcherrima
30:05

1

Kyrie
4:34

2

Gloria
6:02

3

Credo
10:07

4

Sanctus
2:59

5

Benedictus
2:17

6

Agnus Dei
4:06

7

–

11

Bartłomiej Pękiel
I Missa senza le cerimonie
10:14

7

Kyrie
1:01

8

Gloria
1:23

9

Credo
2:44

10

Sanctus, Benedictus
2:48

11

Agnus Dei
2:18

12

–

17

Bartłomiej Pękiel
II Missa senza le cerimonie
12:08

12

Kyrie
1:12

13

Gloria
1:54

14

Credo
3:57

15

Sanctus
2:00

16

Benedictus
1:36

17

Agnus Dei
1:29

18

Bartłomiej Pękiel
Magnum nomen Domini
1:36

19

Bartłomiej Pękiel
Resonet in laudibus
1:32