Arias From Collection Scherzi Musicali by Claudio Monteverdi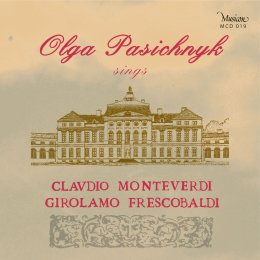 Please give us the catalogue numbers and quantity of our CDs you are interested in buying. We will send you information on the cost of the CDs and of the shipping and handling thereof.
Musicon
musicon@musicon.pl
OK
MCD 019
Arias from collection Scherzi Musicali by Claudio Monteverdi and d'Arie Musicali by Girolamo Frescobaldi.
Performers:
Olga Pasichnyk - soprano,
Marek Toporowski-harpsichord (Volker Platte, 1991),
Teresa Kamińska-baroque cello,
Aureliusz Goliński-violin (Cracow workshop, XVII c. from the collection of the Museum of Musical Instruments in Poznań.
Producers: Jacek Guzowski, Krzysztof Kuraszkiewicz
Recorded in January 1996 in Raczyński Family's Palace in Rogalin.
Recording method: DDD, 44,1kHz, 16 bits
Songs
1

–

6

Claudio Monteverdi
Scherzi Musicali a voce sola
15:30

1

Maledetto sia l'aspetto
1:01

2

Quel sguardo sdegnosetto
2:17

3

Eri già tutta mia
3:05

4

Ecco di dolci raggi
1:05

5

Et è pur dunque vero (con sinfonia)
6:41

6

Io che armato sin hor
1:21

7

–

9

Claudio Monteverdi
Madrigali a voce sola
11:14

7

Ohimè ch'io cado
4:30

8

La mia turca
2:53

9

Si dolce è il tormento
3:51

10

–

12

Girolamo Frescobaldi
Primo libro d'Arie Musicali
8:03

10

Se l'onde, ohimè
3:44

11

Se l'aura spira
1:11

12

Cosi mi disprezzate (Passacaglia)
3:08

13

–

15

Girolamo Frescobaldi
Secondo libro d'Arie Musicali
9:09

13

Dunque dovrò (Romanesca)
2:47

14

Oscure selve (Canto in stile recitativo)
2:07

15

O mio cor
4:15