Baroque Music For Trumpet & Organ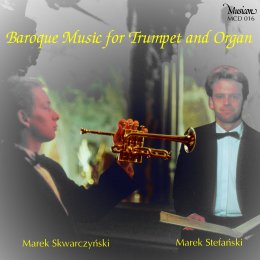 Please give us the catalogue numbers and quantity of our CDs you are interested in buying. We will send you information on the cost of the CDs and of the shipping and handling thereof.
Musicon
musicon@musicon.pl
OK
MCD 016
Performed by Marek Skwarczyński - baroque & clarino trumpet, Marek Stefański - organ of the Leżajsk basilica.
Producers: Jacek Guzowski, Krzysztof Kuraszkiewicz
Recorded in October 1994 in Leżajsk Basilica.
Recording method: DDD, 44,1kHz, 16 bits
Songs
1

Henry Purcell
Trumpet Overture / The Indian Queen
4:05

2

Henry Purcell
Trumpet Air / The Indian Queen
1:05

3

–

5

Henry Purcell
Sonata in D major, Z.850
5:38

3

Adagio
1:24

4

Pomposo
1:41

5

Allegro
2:33

6

Johann Sebastian Bach
Aria / Cantata "Du sollt Gott, deinen Herren, lieben" (You shall love God, your Lord), BWV 77
4:24

7

Johann Sebastian Bach
Badinerie / Suite No. 2 in B minor, BWV 1067
1:38

8

–

12

Georg Friedrich Haendel
Suite in D major
8:23

8

Overture
1:45

9

Gigue
1:53

10

Aire
2:15

11

March
1:04

12

March
1:26

13

–

17

Giuseppe Maria Jacchini
Tratenimento per Camera
6:00

13

Allegro
1:05

14

Grave
1:01

15

Allegro
1:11

16

Grave
0:30

17

Allegro
2:13

18

Alessandro Ignazio Marcello
Adagio / Concerto in C minor
4:46

19

–

23

Giuseppe Torelli
Sonata à cinque in D major No.7
7:05

19

Grave, Allegro
1:32

20

Adagio
2:04

21

Vivace
1:16

22

Grave
0:37

23

Allegro
1:36

24

Marc-Antoine Charpentier
Prélude /Te Deum in D major, H 146
2:00