The Organ of Święta Lipka basilica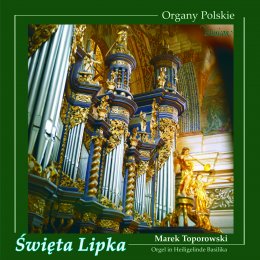 Please give us the catalogue numbers and quantity of our CDs you are interested in buying. We will send you information on the cost of the CDs and of the shipping and handling thereof.
Musicon
musicon@musicon.pl
OK
MCD 004
Marek Toporowski - organ
Recorded in 1991.
Recording producers: Jacek Guzowski & Krzysztof Kuraszkiewicz
Songs
| | | | |
| --- | --- | --- | --- |
| 1 | August Freyer | Concert variations on a church chant by Bortnyansky, op.3 | 11:52 |
| 2 | Felix Mendelssohn Bartholdy | Organ Sonata No.3 in A Major, Op.65 | 11:21 |
| 3 | Louis James Alfred Lefébure-Wély | Marche in C Major | 5:29 |
| 4 | Louis James Alfred Lefébure-Wély | Sortie in B Major | 3:05 |
| 5 | Ferenc Liszt | Evocation à la Chapelle Sixtine | 14:00 |
| 6 | Ferenc Liszt | Ave Maria von Arcadelt | 5:07 |
| 7 | Ferenc Liszt | Variationen über den Basso continuo des ersten Satzes der Kantate 'Weinen, Klagen, Sorgen, Zagen …' und des Crucifixus der H-moll-Messe von J.S. Bach | 16:20 |
| 8 | Feliks Nowowiejski | Polish Fantasy Op 9 No.1 Christmas Midnight Mass at the Wawel Cathedral in Cracow | 7:04 |