Splendid Organ Sounds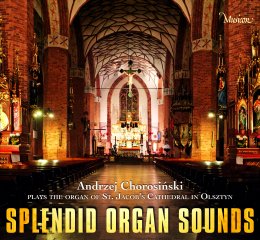 Please give us the catalogue numbers and quantity of our CDs you are interested in buying. We will send you information on the cost of the CDs and of the shipping and handling thereof.
Musicon
musicon@musicon.pl
OK
MSCD 047
Andrzej Chorosinski plays the organ of St. Jacob's Cathedral.
Producers: Jacek Guzowski, Krzysztof Kuraszkiewicz
Graphic design: Anna Lenartowicz
Hybrid Multichannel Super Audio CD Plays on All SACD and CD Players.
The recording, in the high-resolution (24/96) SURROUND 5.0 technology, was made in May 2011.
http://www.hraudio.net/showmusic.php?title=10113#reviews
Songs
1

–

3

Antonio Vivaldi
La Primavera - Le quattro stagioni
10:34

1

Allegro
3:05

2

Largo
3:00

3

Allegro
4:29

4

César Franck
Prélude, Fugue et Variation, Op.18
8:57

5

–

8

Léon Boëllmann
Suite Gothique pour grand orgue, Op.25
12:19

5

Introduction – Choral
2:42

6

Menuet gothique
2:27

7

Prière à Notre-Dame
4:17

8

Toccata
2:53

9

Mieczysław Surzyński
Improvisation on the polish church song, Op.38
9:23

10

Felix Mendelssohn Bartholdy
VI. Sonate, Op.65
12:06

11

Johann Sebastian Bach
Air from Orchestral Suite No.3 in D major, BWV 1068
5:36

12

Johann Sebastian Bach
Wachet auf, ruft uns die Stimme, BWV645, from the six Schübler Chorales serie
4:03

13

Johann Sebastian Bach
Meine Seele erhebt den Herren, BWV 648, from the six Schübler Chorales serie
2:21