KAMIEŃ IMPRESSIONS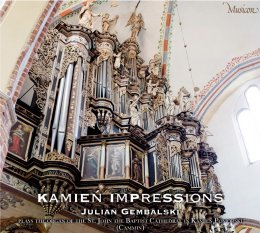 Please give us the catalogue numbers and quantity of our CDs you are interested in buying. We will send you information on the cost of the CDs and of the shipping and handling thereof.
Musicon
musicon@musicon.pl
OK
MSCD 050
Julian Gembalski plays the organ of the St. John the Baptist Cathedral in Kamień Pomorski.
Producers: Jacek Guzowski, Krzysztof Kuraszkiewicz
Graphic design: Anna Lenartowicz
Hybrid Multichannel Super Audio CD
Plays on All SACD and CD Players.
The recording, in the high-resolution (24/96) SURROUND 5.0 technology, was made in November 2011.
Songs
1

Petro de Drusina
Deus in adiutorium meum intende
2:52

2

Anonim The Oliwa Tablature
Fuga [in F]
3:07

3

Anonim The Oliwa Tablature
Preambulum ex F
0:42

4

Anonim The Oliwa Tablature
Lemma
1:04

5

Nicolaus Bruhns
Praeludium in G
8:29

6

Samuel Scheidt
6. Echo ad manuale duplex, forte et lene, SSWV 128
6:57

7

Nicolaus Bruhns
Praeludium in e
5:28

8

–

16

Johann Sebastian Bach
Partite diverse sopra: "O Gott, du frommer Gott", BWV 767
14:46

8

Partita I
1:02

9

Partita II
2:32

10

Partita III
1:10

11

Partita IV
0:42

12

Partita V
1:20

13

Partita VI
1:00

14

Partita VII
1:37

15

Partita VIII
2:25

16

Partita IX
2:58

17

Johann Sebastian Bach
Praeludium et Fuga e-moll, BWV 548
13:48

18

–

27

Julian Gembalski
Kamień Impressions – 10 improvised preludes
15:48

18

Morn
0:47

19

Encounter
0:58

20

Cathedral
1:55

21

Wind from the Bay
1:37

22

Saint Otto
1:08

23

Conch
1:18

24

City at Noon
1:17

25

Organ Psalm
2:33

26

Dawn
2:22

27

Farewell
1:53