Ethnic Inspirations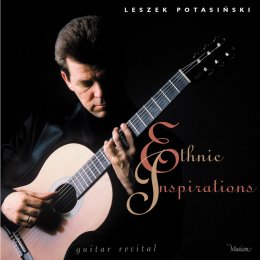 Please give us the catalogue numbers and quantity of our CDs you are interested in buying. We will send you information on the cost of the CDs and of the shipping and handling thereof.
Musicon
musicon@musicon.pl
OK
MCD 043
Leszek Potasiński - guitar
Producers: Jacek Guzowski & Krzysztof Kuraszkiewicz
Graphic design: Anna Lenartowicz
Recorded on November 2002 in the Concert Hall of the Pomeranian Philharmonic in Bydgoszcz.
Recording method: DDD, 44,1kHz, 16 bits
Songs
1

Miguel Llobet
Canço del lladre
1:53

2

Isaac Albéniz
Asturias
6:14

3

Francisco Tárrega
Mazurka
2:44

4

Luys de Narváez
Diferencias sobre Guárdame las vacas
2:29

5

Gaspar Sanz
Folías
2:56

6

Antonio de Santa Cruz
Jácaras
2:34

7

Gaspar Sanz
Canarios
2:39

8

Joaquín Rodrigo
Junto al Generalife
5:23

9

–

10

Alexandre Tansman
2 dances from In modo polonico suite
4:39

9

Oberek
2:06

10

Kujawiak
2:33

11

–

13

Roland Dyens
Saudade No. 3
6:09

11

I - Rituel
1:22

12

II - Danse
1:39

13

III - Fête et Final
3:08

14

María Luisa Añido
Aire norteño
1:54

15

Atahualpa Yupanqui
La Pobrecita
3:26

16

Leo Brouwer
Danza del Altiplano
2:49

17

Jorge Cardoso
Gato
1:36

18

José Antonio Rojas
Guajira a mi madre
3:39

19

Astor Piazzolla
Milonga del Ángel
5:33