Górecki Folk Songs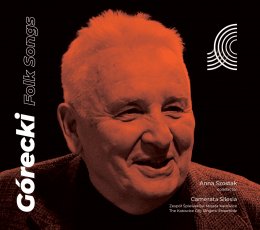 Please give us the catalogue numbers and quantity of our CDs you are interested in buying. We will send you information on the cost of the CDs and of the shipping and handling thereof.
Musicon
musicon@musicon.pl
OK
CSCD 01
The Katowice City Singers' Ensemble "Camerata Silesia"
Anna Szostak - conductor
Jacek Guzowski. Krzysztof Kuraszkiewicz - producers
Recorded in the church of Our Lady of Częstochowa in Katowice-Podlesie at 28th June-1st July 2021.
Songs
1

–

7

Henryk Mikołaj Górecki
Ach, mój wianku lewandowy Op.50 (Oh, Lavender Wreath of Mine)
13:17

1

Oh, Lavender Wreath of Mine
2:10

2

Three Maids Went A-Wanderin'
1:57

3

I Would Keep it Secret
1:12

4

Ram Pam Pam Pam
1:14

5

You Want to Know
3:07

6

Why Did You, Mother Dear
2:07

7

Give Good God Harvest
1:30

8

–

12

Henryk Mikołaj Górecki
Idzie chmura, pada deszcz Op.51 (Here Comes a Cloud, the Rain is Falling)
7:08

8

Here Comes a Cloud, the Rain is Falling
1:07

9

When There is Sun and Weather Fair
0:59

10

Wither Goest, Oh Johnny?
2:07

11

An Orphan was Walking Down the Village
1:24

12

Time For Us to Head Home
1:31

13

–

17

Henryk Mikołaj Górecki
Wieczór ciemny się uniża, Op.45 (The Evening Dark is Coming Down)
7:50

13

People Are Asking
1:26

14

They Cut the Oak
2:06

15

They'll Make Wreaths
1:15

16

The Horse's Treading
1:09

17

The Evening Dark is Coming Down
1:54

18

–

22

Henryk Mikołaj Górecki
Hej, z góry, z góry koniku bury - Pięć pieśni kurpiowskich, Op.75 (Downhill We Go! Oh GreyHorse - Five Kurpie Songs for mixed choir a cappella, Op.75)
23:30

18

Downhill We Go!
4:29

19

Dark Night, a Dark One
3:40

20

Yesterday, Girl, Not Today
4:55

21

I'm a Farmhand From Toruń
2:04

22

A Storm Has Come, There'll Be Rain
8:22