LICHEŃ.Imagines Musicae Basilicae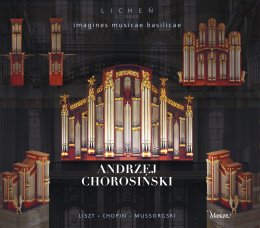 Please give us the catalogue numbers and quantity of our CDs you are interested in buying. We will send you information on the cost of the CDs and of the shipping and handling thereof.
Musicon
musicon@musicon.pl
OK
MSCD 058
Andrzej Chorosiński plays the organ of the Basilica of Our Lady of Licheń in the village of Licheń Stary.
Producers: Jacek Guzowski, Krzysztof Kuraszkiewicz
Graphic design: Anna Lenartowicz
Hybrid Multichannel Super Audio CD
Plays on All SACD and CD Players.
The recording, in the high-resolution (24/192) SURROUND 5.0 technology, was made in April 2021, courtesy of Fr. Janusz Kumala, MIC, the curator of the Sanctuary in Licheń.
Songs
1

Ferenc Liszt
Fantasy and Fugue on the chorale Ad nos, ad salutarem undam
28:31

2

Frederic Chopin
Nocturne F Minor Op.55 No.1
5:20

3

–

17

Modest Mussorgsky
Pictures at an Exhibition
35:33

3

Promenada
1:32

4

The Gnome
2:51

5

Promenada
1:04

6

The Old Castle
4:03

7

Promenada
0:34

8

Tuileries
0:59

9

Cattle
2:39

10

Promenada
0:39

11

Ballet of Unhatched Chicks
1:16

12

Samuel Goldenberg and Schmuÿle
2:36

13

Promenada
1:46

14

Limoges. The Market
1:42

15

Catacombs
4:09

16

The Hut on Fowl's Legs
3:36

17

The Great Gate of Kiev
6:07