Musica Claromontana vol.62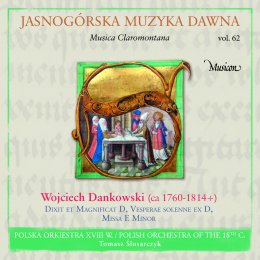 Please give us the catalogue numbers and quantity of our CDs you are interested in buying. We will send you information on the cost of the CDs and of the shipping and handling thereof.
Musicon
musicon@musicon.pl
OK
MCCD 62
Performers:
Joanna Stawarska – soprano [10,12-14]
Anna Zawisza – soprano [2,5-7,17-20,23,25]
Jan Mędrala – countertenor [2,5,17-19,21,25]
Sławomir Bronk – countertenor [10,11,13]
Zygmunt Magiera – tenor [19]
Grzegorz Wollman – tenor
Marcin Wróbel – bass [3,13]
Volodymyr Andrushchak – bass [10,11,15,19,21]
POLISH ORCHESTRA OF THE 18th CENTURY
Tomasz Ślusarczyk - artistic director and conductor
Producers: Jacek Guzowski, Krzysztof Kuraszkiewicz
Music from the collection of the Archives of the Pauline Fathers.
Graphic design: Anna Lenartowicz
Songs
1

–

9

Wojciech Dankowski
Dixit et Magnificat D
18:13

1

Dixit Dominus
1:23

2

Tecum principium
3:12

3

Dominus a dextris tuis
2:18

4

Gloria Patri
0:24

5

Sicut erat
3:55

6

Magnificat
1:56

7

Et misericordia
2:59

8

Gloria Patri
0:19

9

Sicut erat
1:47

10

–

16

Wojciech Dankowski
Vesperae Solenne ex D
18:14

10

Dixit Dominus
3:29

11

Laudate pueri
2:21

12

Laetatus sum
2:24

13

Nisi Dominus
2:13

14

Magnificat
2:21

15

Fecit potentiam
2:23

16

Gloria
3:03

17

–

26

Wojciech Dankowski
Missa E Minor a Voce 9
20:14

17

Kyrie
2:43

18

Gloria
3:03

19

Credo
1:29

20

Et incarnatus est 
2:06

21

Et resurrexit
1:42

22

Sanctus
0:58

23

Benedictus
3:31

24

Osanna
0:40

25

Agnus Dei
1:57

26

Dona nobis
2:05