ARS ORGANI POLONIAE vol.2 Olkusz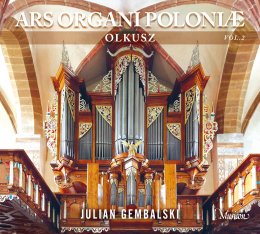 Please give us the catalogue numbers and quantity of our CDs you are interested in buying. We will send you information on the cost of the CDs and of the shipping and handling thereof.
Musicon
musicon@musicon.pl
OK
MSCD 057
Julian Gembalski
plays the organ of the St. Andrew the Apostle Minor Basilica in Olkusz.
Producers: Jacek Guzowski, Krzysztof Kuraszkiewicz
Graphic design: Anna Lenartowicz
Hybrid Multichannel Super Audio CD
Plays on All SACD and CD Players.
The recording, in the high-resolution (24/192) SURROUND 5.0 technology, was made in November 2019, courtesy canon Mieczysław Miarka, provost of the basilica in Olkusz.
Songs
1

Nicolaus Cracoviensis
Salve Regina
1:10

2

Nicolaus Cracoviensis
Chorale prelude Ave Jerarchia
1:11

3

Nicolaus Cracoviensis
Preambulum in F
1:11

4

Nicolaus Cracoviensis
Alia poznanie
1:47

5

Anonim the Cracow Organ Tablature
Crux fidelis N.Z.
3:50

6

Anonim the Cracow Organ Tablature
Fuga
2:36

7

Anonim the Cracow Organ Tablature
Aliud Preambulum super concordantias
1:45

8

Petro de Drusina
Deus in adiutorium meum intende
3:07

9

Paul Hofhaimer
Hymn Ave Maris Stella
1:49

10

–

13

Christian Erbach
Hymn Ave Maris stella
4:56

10

vers. I
1:00

11

vers. II
1:16

12

vers. III
1:22

13

vers. IV
1:18

14

Girolamo Cavazzoni
Hymn Jesu, Redemptor Omnium
1:59

15

Girolamo Cavazzoni
Hymn Crudelis Herodes
1:28

16

Girolamo Cavazzoni
Hymn Pange Lingua Gloriosi
1:52

17

Girolamo Frescobaldi
Toccata prima from the 2nd book of toccatas
1:52

18

Girolamo Frescobaldi
Toccata per l'Elevazione
3:51

19

Girolamo Frescobaldi
Toccata quinta sopra i pedali per l'organo, e senza
4:24

20

Girolamo Frescobaldi
Canzona III in sol
4:27

21

Michelangelo Rossi
Toccata decima sexta
1:59

22

Michelangelo Rossi
Toccata settima
4:48