DOMORGEL IN FROMBORK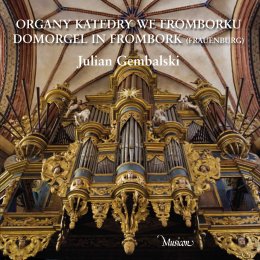 Please give us the catalogue numbers and quantity of our CDs you are interested in buying. We will send you information on the cost of the CDs and of the shipping and handling thereof.
Musicon
musicon@musicon.pl
OK
MCD 041
Julian Gembalski plays the organ of the Cathedral in Frombork
The recording, in the high-resolution (24 bit, 96 kHz) technology was made in January 2009.
Producers: Jacek Guzowski, Krzysztof Kuraszkiewicz
Songs
1

Henry Purcell
Trumpet tune and Air (arrr. Julian Gembalski)
3:22

2

Johann Sebastian Bach
Choral prelude "Wachet auf, ruft uns die Simme" (BWV 645)
4:49

3

Johann Sebastian Bach
Choral prelude "Werde munter mein Gemüthe" from Cantate 147 (BWV 147) (arrr. Maurice Duruflé)
3:45

4

Johann Sebastian Bach
Toccata and Fugue D-minor (BWV 565)
9:18

5

Johann Sebastian Bach
Siciliana from Concerto D-minor by. A.Vivaldiego (BWV 596)
3:03

6

Feliks Rączkowski
Preludium Bogurodzica (Mother of God)
5:11

7

–

8

Leon Boёlmann
Gothic Suite Op.25
8:06

7

Prière à Notre-Dame
4:33

8

Toccata
3:33

9

Mieczysław Surzyński
Improvisation on the polish church song "Holy God" Op.38
11:12

10

Władysław Żeleński
Prelude "Holy God" No.25, Op. 38
4:58

11

Julian Gembalski
Improvisation, "Mary, Queen of Poland"
3:31

12

Julian Gembalski
Improvisation - Toccata "Lobe den Herrn"
6:28

13

Julian Gembalski
Improvisation - Hymn & Meditation "Ave Maris Stella"
9:52