Camerata Silesia Sings Silesian Composers vol.1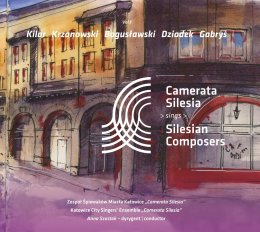 Please give us the catalogue numbers and quantity of our CDs you are interested in buying. We will send you information on the cost of the CDs and of the shipping and handling thereof.
Musicon
musicon@musicon.pl
OK
TPMCD 01
The Katowice City Singers' Ensemble "Camerata Silesia"
Anna Szostak - conductor
Jacek Guzowski. Krzysztof Kuraszkiewicz - producers
Recorded at the Concert Hall of Polish Radio National Symphony Orchestra in Katowice 12-14 July 2018.th
Songs
1

Wojciech Kilar
Modlitwa do małej Tereski
3:58

2

–

4

Andrzej Krzanowski
Pieśni Północne
13:50

2

I
4:55

3

II
4:06

4

III
4:49

5

Andrzej Krzanowski
Salve Regina
5:29

6

–

8

Edward Bogusławski
Psalmy Dawida
10:24

6

Chwalcie Pana
3:19

7

Wysławiam Cię Panie
4:00

8

Modlitwa wieczorna
3:05

9

Andrzej Dziadek
Haec Dies
6:31

10

Ryszard Gabryś
Psalm radosny
7:25