Angelus Domini. Advent Hymns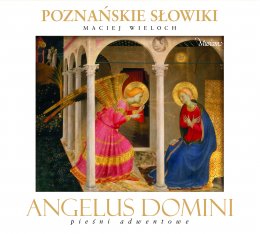 Please give us the catalogue numbers and quantity of our CDs you are interested in buying. We will send you information on the cost of the CDs and of the shipping and handling thereof.
Musicon
musicon@musicon.pl
OK
MCD 056
Performers:
"The Poznań Nightingales" Boys' and Men's Choir of the Poznań Philharmonic
Maciej Wieloch – conductor
Maciej Bolewski – organ
Producers: Jacek Guzowski, Krzysztof Kuraszkiewicz
The recording, created in high-resolution (24/96) surround 5.0 technology, was created at the Resurectionists' Church at Wilda in Poznań, April 2018, courtesy of rector Stanisław Pankiewicz C.R.
Graphic design: Anna Lenartowicz
Songs
| | | | |
| --- | --- | --- | --- |
| 1 | Stefan Stuligrosz | Archangel of the Lord, Gabriel | 5:31 |
| 2 | Stefan Stuligrosz | Angelus Domini – Ave Maria | 6:50 |
| 3 | .................................................... | Behold, the Lord will come | 1:28 |
| 4 | Stefan Stuligrosz | Behold, the Lord will come | 1:33 |
| 5 | Stefan Stuligrosz | Drop down dew, ye heavens, from above | 5:43 |
| 6 | Stefan Stuligrosz | O wisdom, coming forth from the mouth of God | 3:28 |
| 7 | Stefan Stuligrosz | O star of the deep sea | 4:52 |
| 8 | Stefan Stuligrosz | Hail to you, Mary | 3:59 |
| 9 | Maciej Wieloch | After the fall of the sinful man | 3:04 |
| 10 | Maciej Wieloch | Send to us onto the earthly plains | 5:17 |
| 11 | Anonim | To thou above the idea | 3:56 |
| 12 | Anonim | Like a rose amidst the prickly hawthorn | 2:19 |
| 13 | Anonim | The Archangel, Gabriel from heaven on high | 5:12 |
| 14 | Sebastian z Felsztyna | Alleluia. Hail Mary | 4:22 |
| 15 | Grzegorz Gerwazy Gorczycki | Thou art all fair, O Mary | 3:43 |
| 16 | Bartłomiej Pękiel | Great is the name of the Lord | 2:18 |
| 17 | Mikołaj Zieleński | O Heaven's glorious mistress | 2:45 |