J.S.Bach French Suites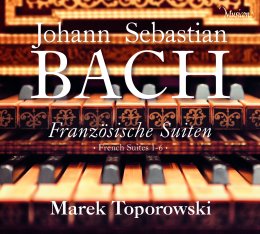 Please give us the catalogue numbers and quantity of our CDs you are interested in buying. We will send you information on the cost of the CDs and of the shipping and handling thereof.
Musicon
musicon@musicon.pl
OK
MCD 055
Marek Toporowski
Italian harpsichord, Martin Schwabe 2010 *
French harpsichord after Blanchet, Martin Schwabe 2007 **
South German style harpsichord, Scheer & Vogel, Jestetten ***
Producers:
Jacek Guzowski, Krzysztof Kuraszkiewicz
Recorded in the high-resolution (24bits/96kHz) technology in May 2016 at the Concert Hall of the Music Academy in Katowice.
Published in 2019.
Graphic design: Anna Wiklińska
Songs
CD 1

1

–

5

Johann Sebastian Bach
Suite No.1 in D-minor, BWV 812 *
14:43

1

Allemande
3:36

2

Courante
2:03

3

Sarabande
2:13

4

Minuet I,II
3:05

5

Gigue
3:46

6

–

11

Johann Sebastian Bach
Suite No.2 in C-minor, BWV 813 **
12:58

6

Allemande
3:03

7

Courante
1:48

8

Sarabande
3:03

9

Air
1:18

10

Minuet
1:18

11

Gigue
2:28

12

–

17

Johann Sebastian Bach
Suite No.3 in B-minor, BWV 814*
15:10

12

Allemande
3:33

13

Courante
2:14

14

Sarabande
2:42

15

Gavotte
1:23

16

Minuet-Trio
2:56

17

Gigue
2:22
CD 2

1

–

7

Johann Sebastian Bach
Suite No.4 in Es-major, BWV 815 ***
14:33

1

Allemande
2:47

2

Courante
1:55

3

Sarabande
3:19

4

Gavotte
1:19

5

Air
1:39

6

Minuet
0:46

7

Gigue
2:48

9

–

14

Johann Sebastian Bach
Suite No.5 in G-major, BWV 816 *
14:42

9

Courante
1:49

10

Sarabande
4:41

11

Gavotte
1:00

12

Bourrée
1:22

13

Loure
2:10

14

Gigue
3:40

15

–

22

Johann Sebastian Bach
Suite No.6 in E-major, BWV 817 **
16:07

15

Allemande
2:44

16

Courante
1:58

17

Sarabande
2:57

18

Gavotte
1:12

19

Polonaise
1:32

20

Bourrée
1:41

21

Gigue
2:42

22

Minuet
1:21