JOHANN DAVID HOLLAND AGATKA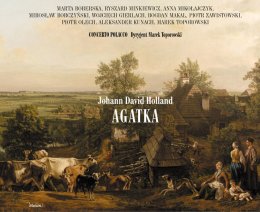 Please give us the catalogue numbers and quantity of our CDs you are interested in buying. We will send you information on the cost of the CDs and of the shipping and handling thereof.
Musicon
musicon@musicon.pl
OK
MCD 036
Opera in 3. Acts
Music: Jan Dawid Holland (1746-1827)
libretto: Maciej Radziwiłł
Concerto Polacco (on period instruments)
Marek Toporowski - conductor.
Producers: Jacek Guzowski, Krzysztof Kuraszkiewicz
Concert version of the opera. Recorded Live at the Great Assembly Room of the Royal Castle in Warsaw, on 8 May 2003.
Recording method: DDD, 44,1kHz, 16 bits
Songs
CD 1

1

–

6

Jan Dawid Holland
Agatka. Akt I.
31:00

1

Uwertura
4:49

2

Aria (Agatka) Biedne ptaszęta
5:37

3

Duet (Agatka, Antek) Y cóż Agatko
7:32

4

Aria (Walenty) Wy nie umiecie w tańcu się uwijacz
3:15

5

Trio (Agatka, Antek, Walenty) Będziemi się weselicz
5:45

6

Aria (Pijaszko) Nic nic niemasz na świecie
4:02

7

–

14

Jan Dawid Holland
Agatka. Akt II.
43:21

7

Aria (Agatka) Nie ten mospanie
3:00

8

Duet (Dbalski, Pijaszko) Wkrótce hardość szyją złomie
5:05

9

Aria (Gajdak) Juz co nato to niezgoda
3:54

10

Aria (Antek) Dawna szczyrość
5:04

11

Duet (Agatka, Antek) Jużem szczęśliwy Agato
7:30

12

Aria (Plociuchowa) Właśniem brała ciasto z nocki
4:48

13

Trio (Agatka, Antek, Pijaszko) Potrafię ja temu radzić
5:05

14

Aria (Agatka) Podległości obowiązku
8:55
CD 2

1

–

3

Jan Dawid Holland
Agatka. Akt III.
19:56

1

Chór Weselcie się, pijcie Dzieci
7:49

2

Aria (Plociuchowa) Jam jest owa Plociuchowa
6:59

3

Finale Aż dopóki świata stanie
5:08