Die KUNST Der ORGEL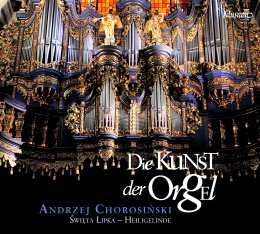 Please give us the catalogue numbers and quantity of our CDs you are interested in buying. We will send you information on the cost of the CDs and of the shipping and handling thereof.
Musicon
musicon@musicon.pl
OK
MSCD 048
Andrzej Chorosiński
plays the organ of the Święta Lipka (Heiligelinde) basilica.
Producers: Jacek Guzowski, Krzysztof Kuraszkiewicz
Graphic design: Anna Lenartowicz
Hybrid Multichannel Super Audio CD
Plays on All SACD and CD Players.
The recording, in the high-resolution (24/96) SURROUND 5.0 technology, was made in 2012, after revitalization the Święta Lipka organ (2009/2010).
Songs
1

–

2

Johann Sebastian Bach
Praeludium et Fuga in e, BWV 548
12:45

1

Praeludium
6:07

2

Fuga
6:38

3

–

5

Felix Mendelssohn Bartholdy
Sonata d-moll Nr 6, Op.65
12:10

3

Choral. Andante sostenuto. Allegro molto
7:20

4

Fuga
2:20

5

Finale. Andante
2:30

6

Frederic Chopin
Etiuda es-moll Nr 6, Op.10
4:06

7

Frederic Chopin
Nokturn Es-dur Nr 2, Op.9
3:30

8

César Franck
Troisiéme Choral en la mineur
11:05

9

–

14

Robert Schumann
Sechs Stücke in kanonischer Form Op.56
14:56

9

I
1:58

10

II
3:05

11

III
1:39

12

IV
2:40

13

V
2:25

14

VI
3:09

15

–

28

Johann Christian Heinrich Rinck
Variationen Heil dir im Siegerkranz Op.55
14:57

15

Andante
0:38

16

I
0:43

17

II
0:35

18

III
0:43

19

IV
0:51

20

V
0:53

21

VI
0:36

22

VII
0:55

23

VIII
1:21

24

IX
1:13

25

X
1:14

26

XI
1:01

27

XII
1:49

28

Finale
2:25