Die KUNST Der ORGEL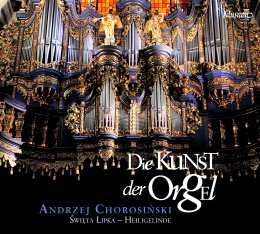 MSCD 048
Andrzej Chorosiński
plays the organ of the Święta Lipka (Heiligelinde) basilica.
Producers: Jacek Guzowski, Krzysztof Kuraszkiewicz
Graphic design: Anna Lenartowicz
Hybrid Multichannel Super Audio CD
Plays on All SACD and CD Players.
The recording, in the high-resolution (24/96) SURROUND 5.0 technology, was made in 2012, after revitalization the Święta Lipka organ (2009/2010).
Songs
1

–

2

Johann Sebastian Bach
Praeludium et Fuga in e, BWV 548
12:45

1

Praeludium
6:07

2

Fuga
6:38

3

–

5

Felix Mendelssohn Bartholdy
Sonata d-moll Nr 6, Op.65
12:10

3

Choral. Andante sostenuto. Allegro molto
7:20

4

Fuga
2:20

5

Finale. Andante
2:30

6

Frederic Chopin
Etiuda es-moll Nr 6, Op.10
4:06

7

Frederic Chopin
Nokturn Es-dur Nr 2, Op.9
3:30

8

César Franck
Troisiéme Choral en la mineur
11:05

9

–

14

Robert Schumann
Sechs Stücke in kanonischer Form Op.56
14:56

9

I
1:58

10

II
3:05

11

III
1:39

12

IV
2:40

13

V
2:25

14

VI
3:09

15

–

28

Johann Christian Heinrich Rinck
Variationen Heil dir im Siegerkranz Op.55
14:57

15

Andante
0:38

16

I
0:43

17

II
0:35

18

III
0:43

19

IV
0:51

20

V
0:53

21

VI
0:36

22

VII
0:55

23

VIII
1:21

24

IX
1:13

25

X
1:14

26

XI
1:01

27

XII
1:49

28

Finale
2:25