ARS ORGANI POLONIAE vol.1 Kazimierz Dolny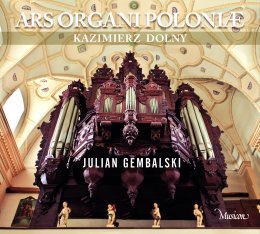 Please give us the catalogue numbers and quantity of our CDs you are interested in buying. We will send you information on the cost of the CDs and of the shipping and handling thereof.
Musicon
musicon@musicon.pl
OK
MSCD 054
Julian Gembalski
plays the organ of the St. John the Baptist and St. Bartholomew the Apostle parish church in Kazimierz Dolny.
Producers: Jacek Guzowski, Krzysztof Kuraszkiewicz
Graphic design: Anna Lenartowicz
Hybrid Multichannel Super Audio CD
Plays on All SACD and CD Players.
The recording, in the high-resolution (24/96) SURROUND 5.0 technology, was made in April 2014.
http://www.hraudio.net/showmusic.php?title=10110#reviews
Songs
1

Anonim the Cracow Organ Tablature
Tantum ergo Sacramentum
3:15

2

Anonim the Cracow Organ Tablature
Ortus de Polonia
2:08

3

Anonim the Cracow Organ Tablature
Per merita Sancti Adalberti
1:58

4

Anonim the Cracow Organ Tablature
Nasz Zbawiciel
0:55

5

Anonim the Cracow Organ Tablature
Cristus iam surrexit
1:07

6

Jan Pieterszoon Sweelinck
Psalm 116
5:54

7

Jan Pieterszoon Sweelinck
Puer nobis nascitur
3:01

8

Jan Pieterszoon Sweelinck
O lux beata Trinitas
3:24

9

Jan Pieterszoon Sweelinck
Echo Fantasia (Aeolian)
3:27

10

Girolamo Cavazzoni
Pange lingua
2:14

11

Girolamo Cavazzoni
Hymn Ave Maris Stella
2:09

12

Bernhard Schmidt
Fuga Prima:à 4
3:39

13

Johann Jacob Froberger
Toccata in Re
4:01

14

Christian Erbach
Canzon a voc 4, No.6
4:44

15

Christian Erbach
Canzon, No.8
3:45

16

–

22

Murschhauser
Praeambulum, Fugue, Finale tertii toni
6:28

16

Praeambulum
0:57

17

Fuga I
0:47

18

Fuga II
1:00

19

Fuga III
1:02

20

Fuga IV
1:00

21

Fuga V
0:44

22

Finale tertii toni
0:58

23

–

26

Murschhauser
Intonatio et Fugae primi toni
4:00

23

Intonatio
0:33

24

Fuga I
1:04

25

Fuga II
0:50

26

Fuga finalis
1:33

27

–

28

Johann Xaver Nauss
Praeludium et Fuga primi toni
3:16

27

Praeludium
1:24

28

Fuga
1:52

29

–

33

Julian Gembalski
Suita per organo historico
13:02

29

Preambulum
1:08

30

Ricercar
2:09

31

Corale
4:23

32

Echo-fantasia
2:26

33

Preambulum e toccata
2:56