Musica Claromontana vol.13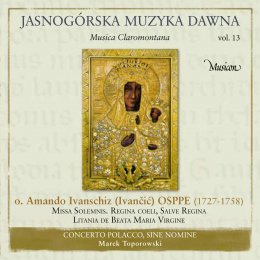 Please give us the catalogue numbers and quantity of our CDs you are interested in buying. We will send you information on the cost of the CDs and of the shipping and handling thereof.
Musicon
musicon@musicon.pl
OK
MCCD 13
Performers:
Anna Mikołajczyk – soprano
Piotr Olech – alto
Krzysztof Szmyt – tenor
Mirosław Borczyński – bass
Sine Nomine Vocal Ensemble
Piotr Zawistowski – chorus master
Concerto Polacco (on period instruments)
Marek Toporowski – conductor
Recording supervision & sound engineering: Marcin Domżał
Music from the collection of the Archives of the Pauline Fathers.
Graphic design: Anna Lenartowicz
Songs
1

–

13

Amando Ivančić (Ivanschiz)
MISSA SOLEMNIS
32:30

1

Kyrie
3:36

2

Gloria
2:56

3

Qui tollis
2:15

4

Quoniam
2:02

5

Cum Sancto Spiritu
2:07

6

Credo
1:46

7

Et incarnatus
3:34

8

Et resurrexit
1:26

9

Et vitam venturi
2:02

10

Sanctus
1:37

11

Benedictus
4:48

12

Agnus Dei
2:23

13

Dona nobis pacem
1:58

14

Amando Ivančić (Ivanschiz)
REGINA COELI
1:03

15

Amando Ivančić (Ivanschiz)
SALVE REGINA
3:25

16

–

22

Amando Ivančić (Ivanschiz)
LITANIA DE B. MARIA VIRGINE
21:39

16

Kyrie eleison
5:14

17

Mater Divinae gratiae
3:07

18

Virgo prudentissima
2:07

19

Rosa mystica
4:14

20

Salus infirmorum
3:01

21

Regina angelorum
1:20

22

Agnus Dei
2:36