Musica Claromontana vol.21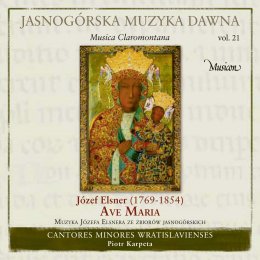 Please give us the catalogue numbers and quantity of our CDs you are interested in buying. We will send you information on the cost of the CDs and of the shipping and handling thereof.
Musicon
musicon@musicon.pl
OK
MCCD 21
Performers:
Agnieszka Drożdżewska – soprano [13, 17, 21]
Marzena Korchut-Łykowska – soprano [19]
Maciej Gocman – tenore [9, 19]
Marek Fras – bass [9]
Cantores Minores Wratislavienses Chamber Choir
Krzysztof Karpeta – cello
Kazimierz Pyzik – Vienna double-bass
Marek Pilch – organ
Piotr Karpeta – condutor
Producer: Małgorzata Polańska
Music from the collection of the Archives of the Pauline Fathers. Recorded at the Evangelical Institute of Sacred Music Aula in Wroclaw, December 2006.
Songs
1

Józef Elsner
Ave Maria B flat Major
3:52

2

Józef Elsner
Motetto für Doppelchor Gloria et honore coronasti Eum
6:15

3

–

6

Józef Elsner
Hymni in Solemni Processione S.S. Corporis Christi
12:01

3

Statio I. O! Salutaris Hostia
2:31

4

Statio II. Pange lingua gloriosi
3:05

5

Statio III. Tantum ergo Sacramentum
2:21

6

Statio IV. Ecce panis Angelorum
4:04

7

–

14

Józef Elsner
Mass for four vocal parts with organ accompaniment for the celebration of the thanksgiving service of the Arch-Fraternity of the Perpetual Adoration of the Most Blessed Sacrament at the Church of the Order of the Blessed Sacrament in Warsaw
22:40

7

Kyrie
3:32

8

Gloria
2:52

9

Graduale
2:38

10

Credo
3:49

11

Offertorium
2:40

12

Sanctus
1:46

13

Benedictus
2:05

14

Agnus Dei
3:18

15

–

22

Józef Elsner
Midnight Mass to Polish text, written for the Piarists' Choir in Warsaw, and organ obbligato with cello accompaniment
21:35

15

Kyrie
2:19

16

Gloria
2:12

17

Graduale
1:39

18

Credo
2:14

19

Offertorium
2:34

20

Sanctus
3:53

21

Benedictus
4:00

22

Agnus Dei
2:44

23

–

29

Józef Elsner
Mass to Polish text for four vocal parts with organ accompaniment
9:19

23

Kyrie
0:56

24

Gloria
1:09

25

Graduale
0:59

26

Credo
2:22

27

Offertorium
1:26

28

Sanctus
1:06

29

Agnus Dei
1:21

30

Józef Elsner
Ave Maria E flat Major
2:21