Musica Claromontana vol.41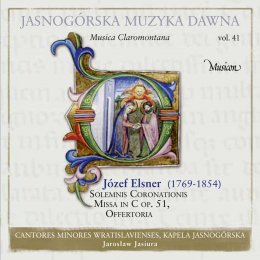 Please give us the catalogue numbers and quantity of our CDs you are interested in buying. We will send you information on the cost of the CDs and of the shipping and handling thereof.
Musicon
musicon@musicon.pl
OK
MCCD 41
Performers:
Agnieszka Tomaszewska – soprano (5,10,14,19)
Joanna Dobrakowska – alto (5,19)
Karol Kozłowski – tenor (5,14)
Bogdan Makal – bass (5,6,18,19)
Cantores Minores Wratislavienses
Piotr Karpeta - choirmaster
Kapela Jasnogórska
Jarosław Jasiura – conductor
Producers: Jacek Guzowski, Krzysztof Kuraszkiewicz
Music from the collection of the Archives of the Pauline Fathers. Recorded at the Church of the Holy Trinity in Mochów, May 2009.
Graphic design: Anna Lenartowicz
Songs
1

Józef Elsner
Offertorium Nativitatem hodiernam
5:12

2

Józef Elsner
Offertorium Confirma hoc Deus
3:30

3

–

17

Józef Elsner
Solemnis Coronationis Missa in C op. 51
42:06

3

Kyrie
6:26

4

Gloria
1:45

5

Domine Deus
1:53

6

Qui tollis
3:48

7

Quoniam
0:57

8

Cum sancto
3:14

9

Credo
1:53

10

Et incarnatus
2:42

11

Et resurrexit
2:26

12

Et vitam
1:26

13

Sanctus
2:55

14

Benedictus
5:40

15

Hosanna
0:42

16

Agnus Dei
2:37

17

Dona nobis
3:42

18

Józef Elsner
Graduale. Przez cudowne zmartwychwstanie Op.94
3:16

19

Józef Elsner
O Boże, który rządzisz
4:47