Musica Claromontana vol.50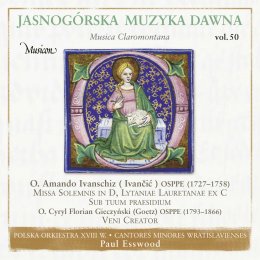 Please give us the catalogue numbers and quantity of our CDs you are interested in buying. We will send you information on the cost of the CDs and of the shipping and handling thereof.
Musicon
musicon@musicon.pl
OK
MCCD 50
Performers:
Katarzyna Wiwer – soprano solo [2,4,6,8,10], ripieno
Agnieszka Drożdżewska – soprano solo [16,18,19,26], ripieno
Łukasz Dulewicz – alto solo [4,8,10,18,20]
Radosław Pachołek – alto ripieno
Maciej Gocman – tenor solo [8,14,23,26], ripieno
Zygmut Magiera – tenor solo [4,10,18,20], ripieno
Marcin Wolak – bass [2,4,8-10,18-20,28]
Piotr Karpeta – basso ripieno
POLISH ORCHESTRA OF THE 18th C., Tomasz Ślusarczyk – artistic director, Judyta Wrona – leader
CANTORES MINORES WRATISLAVIENSES, Piotr Karpeta – preparation of the choir
Paul Esswood – conductor
Producers: Jacek Guzowski, Krzysztof Kuraszkiewicz
Music from the collection of the Archives of the Pauline Fathers.
Graphic design: Anna Lenartowicz
Songs
1

–

17

Amando Ivančić (Ivanschiz)
Missa Solemnis in D major
29:46

1

–

17

Kyrie
1:04

2

Christe
2:43

3

Kyrie
1:08

4

Gloria
3:47

5

Qui tollis
2:32

6

Quoniam
1:42

7

Cum sancto
0:58

8

Credo
2:23

9

Et incarnatus
1:37

10

Et resurrexit
2:02

11

Et vitam
0:53

12

Sanctus
0:54

13

Pleni sunt caeli
0:34

14

Benedictus
3:39

15

Osanna
0:42

16

Agnus Dei
1:22

17

Dona nobis
1:46

18

–

24

Amando Ivančić (Ivanschiz)
Lytaniae Lauretanae ex C
15:24

18

–

24

Kyrie
2:32

19

Sancta Maria
2:27

20

Mater Christi
2:28

21

Vas spirituale
2:18

22

Salus infirmorum
1:31

23

Regina Angelorum
2:30

24

Agnus Dei
1:38

25

–

27

Amando Ivančić (Ivanschiz)
Sub tuum praesidium I
6:26

25

–

27

Sub tuum praesidium
2:41

26

Domina nostra
2:20

27

Tuo Filio nos repraesenta
1:25

28

–

29

Amando Ivančić (Ivanschiz)
Sub tuum praesidium II
3:29

28

–

29

Sub tuum praesidium
2:37

29

Domina nostra
0:52

30

Cyryl Florian Gieczyski
Veni Creator
2:40