Musica Claromontana vol.47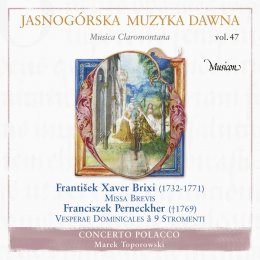 Please give us the catalogue numbers and quantity of our CDs you are interested in buying. We will send you information on the cost of the CDs and of the shipping and handling thereof.
Musicon
musicon@musicon.pl
OK
MCCD 47
Performes:
Concerto Polacco on period instruments
Marek Toporowski – conductor
Soloists:
Anna Krawczyk [1,4,9,12,17-22,24,26,27] – soprano
Piotr Olech [1,6,9,12,17,18,20,21,24,26,27] – alto
Maciej Gocman [1,17,18,21] – tenore
Piotr Zawistowski [1,9,17] – basso
Mirosław Borczyński [19,21] – basso
Ripieno:
Bożena Bojaryn-Przybyła – soprano
Sebastian Ostapczuk – alto
Jakub Grabowski – tenore
Mirosław Borczyński – basso
Piotr Zawistowski – basso
Producers: Jacek Guzowski, Krzysztof Kuraszkiewicz
Music from the collection of the Archives of the Pauline Fathers.
Graphic design: Anna Lenartowicz
Songs
1

–

18

František Xaver Brixi
Missa Brevis
36:35

1

–

18

Kyrie
4:37

2

Gloria
1:32

3

Et in terra pax
0:58

4

Laudamus
2:56

5

Gratias agimus
1:27

6

Domine
3:06

7

Qui tollis peccata mundi
2:08

8

Quoniam tu solus
2:32

9

Credo
1:33

10

Et incarnatus
1:19

11

Crucifixus
1:42

12

Et resurrexit
3:07

13

Sanctus
0:38

14

Hosanna
1:06

15

Benedictus
2:15

16

Hosanna
1:06

17

Agnus Dei
2:20

18

Dona nobis
2:13

19

–

27

Franciszek Perneckher
Vesperae Dominicales
23:45

19

–

27

Dixit Dominus Ps. 110 (109)
3:20

20

Confitebor Ps. 111 (110)
3:26

21

Beatus vir Ps. 112 (111)
3:33

22

Laudate Pueri Ps. 113 (112)
1:59

23

In exitu Ps. 114 (113)
3:34

24

Laudate Dominum Ps. 117 (116)
1:31

25

Magnificat
1:22

26

Quia respexit
3:26

27

Esurientes
1:34