Musica Claromontana vol.46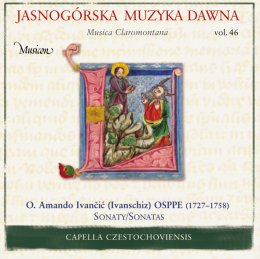 Please give us the catalogue numbers and quantity of our CDs you are interested in buying. We will send you information on the cost of the CDs and of the shipping and handling thereof.
Musicon
musicon@musicon.pl
OK
MCCD 46
Performers: Capella Czestochoviensis The Early Music Ensemble
Jan Krzeszowiec – flute
Tomasz Wabnic – viola, artistic director
Adam Krzeszowiec – wiolonczela/cello
Niels Muus – klawesyn/harpsichord
Muzyka ze zbiorów archiwum Ojców Paulinów./Music from the collection of the Archives of the Pauline Fathers.
Reżyseria nagrania/Producers: Jacek Guzowski, Krzysztof Kuraszkiewicz
Opracowanie graficzne/Graphic design: Anna Lenartowicz
Songs
1

–

3

Amando Ivančić (Ivanschiz)
Sonata IV in G major Sonata a Tre per Flauto, Viola Col Violoncello
9:41

1

–

3

Largo
5:07

2

Allegro assai
2:39

3

Menuetto grazioso
1:55

4

–

8

Amando Ivančić (Ivanschiz)
Sonata a Tre No 2 in G major Sonata a Tre per Flauto, Viola e Basso
18:16

4

–

8

Andante
4:33

5

Allegro
2:17

6

Menuetto Trio. Menuetto da capo
5:59

7

Andante
2:58

8

Allegro Finale
2:29

9

–

11

Amando Ivančić (Ivanschiz)
Sonata I in G major Trio ex G per Flauto Traverso, Viola Obligato e Basso
12:12

9

–

11

Adagio
4:59

10

Minuetto Trio. Minuetto da capo
4:22

11

Allegro
2:51

12

–

14

Amando Ivančić (Ivanschiz)
Sonata II (III) in C major Sonata a Flauto, Viola col Basso
12:54

12

–

14

Andante
4:47

13

Menuetto, Trio, Menuetto da capo
5:55

14

Allegro molto
2:12