Musica Claromontana vol.37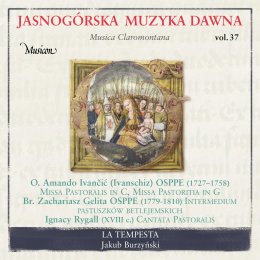 Please give us the catalogue numbers and quantity of our CDs you are interested in buying. We will send you information on the cost of the CDs and of the shipping and handling thereof.
Musicon
musicon@musicon.pl
OK
MCCD 37
Performers:
Early Music Ensemble LA TEMPESTA
Jakub Burzyński – conductor, artistic director
Soloists:
Aneta Kapla – soprano [2,7,8,16,18,21-23,27-29,32,36,37,40]
Anna Krawczuk – soprano [20],
Joanna Motulewicz – mezzo-soprano [5,18,21-23,25,29,32,36-37,40]
Aleksander Kunach – tenor [5,8,18,20,21,23,25,27-29,32,34,37]
Mariusz Cyciura – tenor [20],
Artur Janda – baritone [5,18,21,23,26,29,32,37-40]
Michał Janczak – bass [20]
Choir and on period instruments orchestra:
Monika Dobrzyńska, Anna Krawczuk, Barbara Szczerbaczewicz – soprano
Anna Fijałkowska, Joanna Motulewicz – contralto
Mariusz Cyciura, Aleksander Kunach – tenor
Michał Janczak, Artur Janda, Zenon Trybuła – bass
Małgorzata Zalewska, Magdalena Pilch - transverse flute, Sławomir Cichor, Mariusz Niepiekło – trumpet, Jacek Juszczak, Jan Szczepaniak – horn, Juliusz Żurawski, Ewa Chmielewska, Małgorzata Feldgebel, Marcin Sochan – violin, Tomasz Frycz – violoncello, Grzegorz Zimak – double bass, Barbara Świderska – positive organ
Producers: Jacek Guzowski, Krzysztof Kuraszkiewicz
The recording was create at the Calvinist Church in Warsaw in January 2009.
Music from the collection of the Archives of the Pauline Fathers at Jasna Góra in Częstochowa.
Graphic design: Anna Lenartowicz
Songs
1

–

6

Amando Ivančić (Ivanschiz)
Missa Pastoralis in C major
26:40

1

Kyrie
5:18

2

Gloria
7:12

3

Credo
6:33

4

Sanctus
0:52

5

Osanna
3:55

6

Agnus Dei
2:50

7

Zachariasz Gelita
Intermedium pastuszków betlejemskich/ Bethlehem Shepherds' Interlude
3:05

8

–

13

Amando Ivančić (Ivanschiz)
Missa Pastoritia in G major
22:45

8

Kyrie
4:06

9

Gloria
7:28

10

Credo
5:06

11

Sanctus
0:50

12

Benedictus
2:04

13

Agnus Dei
3:11

14

Ignacy Rygal
Cantata Pastoralis
3:05