Musica Claromontana vol.36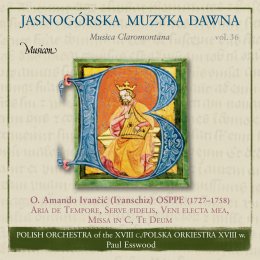 Please give us the catalogue numbers and quantity of our CDs you are interested in buying. We will send you information on the cost of the CDs and of the shipping and handling thereof.
Musicon
musicon@musicon.pl
OK
MCCD 36
Performers:

Katarzyna Wiwer – soprano (1-4,6,7,9,10,12-22), 

Jan Mędrala – contralto (1,3-7,9-15,17-21), 

Joseph Cornwell – tenor (1,3-7,9,10,12,14,15,17,19-21), 

Marcin Wolak – bass (1,3-7,9,10,12,14,15,17,19-21)
POLISH ORCHESTRA OF THE XVIII CENTURY, Tomasz Ślusarczyk – artistic director, Violetta Szopa-Tomczyk – leader
Paul Esswood – conductor
Music from the collection of the Archives of the Pauline Fathers.
Producers: Jacek Guzowski, Krzysztof Kuraszkiewicz
Graphic design: Anna Lenartowicz
Songs
1

Amando Ivančić (Ivanschiz)
Aria de omni Sancto vel Sancta Serve fidelis
8:54

2

Amando Ivančić (Ivanschiz)
Aria de tempore
9:48

3

Amando Ivančić (Ivanschiz)
Aria de Beata vel alia Sancta Veni electa mea
9:02

4

–

18

Amando Ivančić (Ivanschiz)
Missa in C major
35:41

4

–

18

Kyrie
2:13

5

Christe
3:29

6

Kyrie II
2:14

7

Gloria
2:59

8

Cum sancto
0:37

9

Amen
2:34

10

Credo
2:29

11

Et incarnatus
4:50

12

Et resurrexit
1:39

13

Et expecto
0:48

14

Amen
1:25

15

Sanctus
1:09

16

Benedictus
4:30

17

Osanna
0:45

18

Agnus Dei
4:00

19

–

23

Amando Ivančić (Ivanschiz)
Te Deum
5:50

19

–

23

Te Deum laudamus
1:24

20

Te ergo
0:57

21

Aeterna
1:04

22

Miserere
0:51

23

In te Domine
1:34