Musica Claromontana vol.10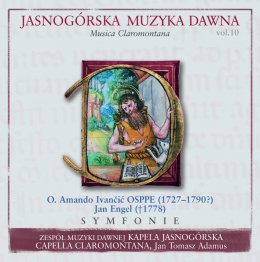 Please give us the catalogue numbers and quantity of our CDs you are interested in buying. We will send you information on the cost of the CDs and of the shipping and handling thereof.
Musicon
musicon@musicon.pl
OK
MCCD 10
Performers:
Capella Claromontana - The Early Music Ensemble, Jan Tomasz Adamus cond.
Martin Jelev, Urszula Bevis - oboi
Vaclav Luks, Miroslav Rovensky - corni
Stephan von Hoff - fagotto
Zbigniew Pilch - violino principale
Jarosław Pietrzak Adam Pastuszka - violini I
Mikołaj Zgółka Adela Stajnochrova Martyna Pastuszka - violini II
Peter Šestak - viola
Tomasz Lisiecki - violoncello
Ondrej Stajnochr - contrabasso
Music from the collection of the Pauline Fathers at Jasna Góra in Częstochowa.
The recording was made at the Father Augustyn Kordecki Hall at the Jasna Góra Pauline Monastery in June, 2005.
Producers : Jacek Guzowski, Krzysztof Kuraszkiewicz
Project supervision - Father Nikodem Kilnar, Subprior of the Order and the President of the "Kapela Jasnogórska" Association, Father Sebastian Matecki, Subprior, Secretary of the Association
Pictures from the collection of the Archives of the Pauline Fathers at Jasna Góra in Częstochowa.
Cover picture - " St. John ", Missal of Jasna Góra, 15th century.
Songs
1

–

4

Amando Ivančić (Ivanschiz)
Symphony D major no. 3
17:06

1

–

4

Adagio - Allegro
5:34

2

Andante
3:40

3

[Tempo di Menuetto]
4:50

4

Allegro
3:02

5

–

8

Amando Ivančić (Ivanschiz)
Symphony D major no. 6
13:42

5

–

8

Allegro
2:21

6

Andante
4:24

7

Menuet[to].Allegro
3:49

8

Allegro assai
3:08

9

–

12

Amando Ivančić (Ivanschiz)
Symphony G major no. 7
13:46

9

–

12

Allegro
2:40

10

Andante
3:53

11

[Tempo di] menuet[to]
4:12

12

Allegro
3:01

13

–

15

Jan Engel
Symphony F major
0:00

13

–

15

Presto
0:00

14

Andante
0:00

15

Presto
0:00

16

Jan Engel
Symphony B-flat major
6:29

16

Allegro
6:29

17

–

19

Jan Engel
Symphony G major
16:38

17

–

19

Allegro assai
11:13

18

Andante
2:32

19

Presto
2:53