Art of the Engler Organ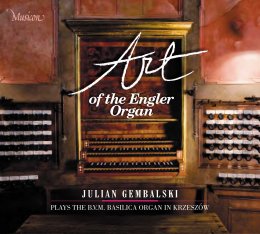 Please give us the catalogue numbers and quantity of our CDs you are interested in buying. We will send you information on the cost of the CDs and of the shipping and handling thereof.
Musicon
musicon@musicon.pl
OK
MSCD 042
Julian Gembalski plays the B.V.M. basilica organ in Krzeszów.
German baroque organ music.
Hybrid Multichannel Super Audio CD
Plays on All SACD and CD Players.
The recording was made in the high-resolution (24/96) SURROUND 5.0 technology.
Producers: Jacek Guzowski, Krzysztof Kuraszkiewicz
Organ preparation:Andreas Hahn, Jehmlich Orgelbau Dresden GmbH
Graphic design: Anna Lenartowicz
Songs
1

Johann Sebastian Bach
Chorale prelude Liebster Jesu, wir sind hier (BWV 731)
2:28

2

Georg Muffat
Toccata quarta
5:47

3

Johann Pachelbel
Praeludium in d
5:29

4

Johann Pachelbel
Chorale prelude Allein Gott in der Höh` sei Ehr (I)
2:43

5

Johann Pachelbel
Chorale prelude Allein Gott in der Höh` sei Ehr (II)
4:03

6

Johann Pachelbel
Chorale prelude Da Jesus an dem Kreuze stund
2:45

7

Johann Pachelbel
Chorale prelude Jesus Christus unser Heiland
1:55

8

Johann Pachelbel
Fantasia in g
2:36

9

Johann Ferdinand Norbert Seger
Toccata e fuga re minore
3:30

10

Johann Ferdinand Norbert Seger
Toccata e fuga fa maggiore
4:04

11

Johann Gottfried Walther
Toccata und Fuge in C (LV 122)
5:40

12

Johann Gottfried Walther
Chorale variations Jesu, meine Freude (LV 2)
12:44

13

–

15

Johann Ludwig Krebs
Three Chorale preludes
10:54

13

Ich ruf zu dir, Herr Jesu Christ (pleno Organo con pedale)
3:08

14

Herr Gott, dich loben alle wir
4:35

15

Meinen Jesum lass' ich nicht (pleno Organo con Pedale)
3:11

16

Johann Sebastian Bach
Chorale prelude Wer nur den lieben Gott lässt walten (BWV 691)
1:32

17

Johann Sebastian Bach
Chorale prelude Wer nur den lieben Gott lässt walten (BWV 691a)
2:18

18

Johann Sebastian Bach
Präludium und Fuge C-dur (BWV 547)
9:24