Musica Claromontana vol.3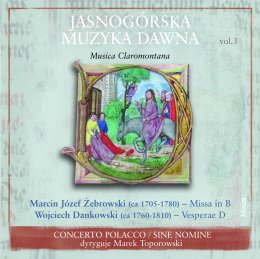 Please give us the catalogue numbers and quantity of our CDs you are interested in buying. We will send you information on the cost of the CDs and of the shipping and handling thereof.
Musicon
musicon@musicon.pl
OK
MCCD 03
Performers: Concerto Polacco on period instruments, vocal ensemble Sine Nomine – cond. Marek Toporowski and soloists: Marta Wróblewska – soprano, Piotr Olech – contralto, Aleksander Kunach – tenor, Mirosław Borczyński – bass, Sebastian Matecki OSPPE – celebrant.
Producers : Jacek Guzowski, Krzysztof Kuraszkiewicz
Graphic design: Anna Lenartowicz
Recording format: 16 bit, 44.1kHz
Songs
1

–

10

Marcin Józef Żebrowski
Missa in B
18:18

1

Kyrie
2:49

2

Gloria
1:54

3

Credo
1:06

4

Et incarnatus est
1:22

5

Et resurrexit
1:33

6

S
1:02

7

Osanna
0:52

8

Benedictus
4:19

9

Osanna
0:55

10

Agnus Dei
2:26

11

–

16

Wojciech Dankowski
Vesperae D
29:10

11

Dixit Dominus
4:33

12

Laudate pueri
3:54

13

Laetatus sum
3:42

14

Nisi Dominus
3:23

15

Lauda Jerusalem
4:08

16

Magnificat
9:30