Camerata Silesia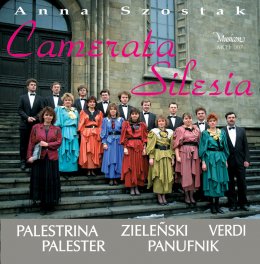 Please give us the catalogue numbers and quantity of our CDs you are interested in buying. We will send you information on the cost of the CDs and of the shipping and handling thereof.
Musicon
musicon@musicon.pl
OK
MCD 007
Sacral music by Palestrina, Zieleński, Verdi, Palester, and Panufnik.
Performed a cappella by Singer Ensemble Camerata Silesia conducted by Anna Szostak.
[1]- First Polish recording
[5-10], [11] - First world recording
Producers: Jacek Guzowski, Krzysztof Kuraszkiewicz
Recorded on 5-9.12.1992 in the Church of St.Mary the Queen of the Polish Crown in Czechowice-Dziedzice
Recording Time: 49' 57''
Recording method: DDD, 44,1kHz, 16 bits
Songs
1

Giovanii Pierluigi da Palestrina
Stabat Mater
11:31

2

Mikołaj Zieleński
Motetto de S. Dominico
3:35

3

Giuseppe Verdi
Ave Maria
4:23

4

Giuseppe Verdi
O Padre nostro
6:03

5

–

10

Roman Palester
Missa Brevis
16:57

5

Kyrie
5:54

6

Gloria
2:02

7

Credo
2:00

8

Sanctus
2:39

9

Benedictus
1:24

10

Agnus Dei
2:58

11

Andrzej Panufnik
Song to the Virgin Mary
9:59